Yebba!
Matindi ang kabog ng dibdib, puso'y parang nais kumawala. Nanginginig ang kalamnan. Pawis ay tumatagaktak bagama't may kalamigan. Hindi mapakali sa upuan, parang pusang hindi mapaanak. Halos himatayin sa kaba. Manaka-nakang tila ba nauupos na kandila. Sumigla, nabuhayan ng dugo. Mga kamay iwinawagayway habang sumisigaw ng pabulong. TAGUMPAY!!!!!!!!!!!!!!

The rules changed as soon as the contestants were trimmed down to two. This time, if one of the last two remaining spellers misspells the word, the other one would have to spell it correctly then spell another word correctly to be declared the winner. It was nerve wracking. Lexi and the 6th grader were going at it for so many rounds. I could tell it was getting on her nerves too. It was only a matter of time, and one of them is definitely going down. Alexis' big break came when the opponent (?) misspelled "anchovy". I chuckled when she told me later on that as soon as the other girl misspelled, she smiled because she knows how to spell it. Her winning word was "Argonaut".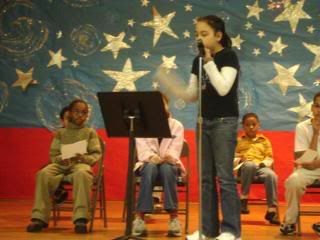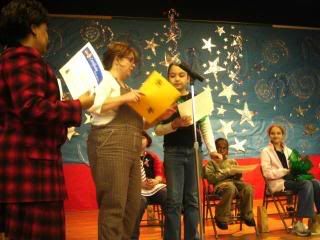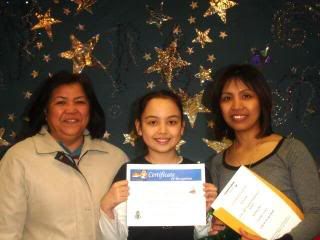 It took a while for her to even realize she had already won. She just stood there, as if in a trance. My mom, seated to my left had tears rolling down her cheeks. I, on the other hand was jumping for joy. People were congratulating me left and right as if I was the one who won. Oh yeah, I did win. I won the "proudest mommy of the moment" award.
*next stop will be the EUROPEAN SPELLING BEE competition...exact dates to be announced.
aside from the $100 savings bond, she also received a Merriam Webster's Collegiate dictionary.
Labels: mommy moments